WLU track and field travels to take on Kent State
By Tyler Blomquist, Contributing Writer
The West Liberty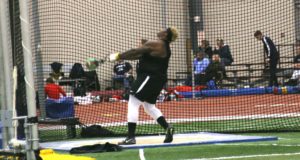 Photo Credit: Hilltoppersports.com[/caption]
Emily Louk set a record for the women's 800-meter run with a time of 2:27.86 and also was a part of the women's distance relay team, which included Hannah Ramirez, Makayla Rolince, and Grace Henley, that set a school record with a time of 13:46.86.
Abby Caldwell set the school record with a time of 8.38 in the 60-meter sprint. Ryan Wilson set the school record in the 600-meter run with a time of 1:51.77. Finally, Zayne Brakeall set the record for the triple jump event with a jump of 31 feet, six inches. The Hilltoppers have been off to a fast and successful start and look to continue their trend of outstanding performances in northern Ohio.
The meet doesn't have a scheduled time at the moment but in the past these meets have started at 11 a.m.
For more information on this years track team, log onto hilltoppersports.com and be sure to grab next weeks issue of the Trumpet for more previews and player profiles. 
Photo Credit: Hilltoppersports.com