Hilltopper basketball anticipates tough weekend in Glenville
The West Liberty men's and women's basketball team will play against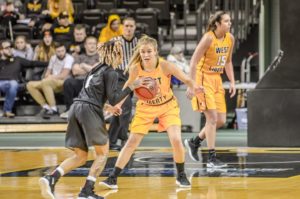 Photo Credit: Hilltoppersports.com[/caption]
These two teams faced off in mid-November and the men's team scored a season-high 158 points in a landslide victory over Glenville. Eight Hilltoppers scored double digits with sophomore guard Dalton Bolon leading the way with 31 points. All 12 Hilltoppers that checked into the game scored at least three points. Sophomore forward Marlon Moore Jr. led the team with 11 rebounds and two steals.
Unfortunately, for the women's team, the first meeting wasn't as successful as they had hoped, as they fell to Glenville State 122-105 in the ASRC. Lady Pioneer Emily Stoller led all scorers with a massive 44 point game. Five Lady Toppers scored 11 or more points, with Marissa Brown leading the way with 34 points and 14 rebounds. Coming off of the bench junior guard Morgan Brunner added 20 points with 12 of them coming from three-point field goals.
The West Liberty men's and women's basketball team have already clinched their spots in the conference tournament that will be played in Wheeling, West Virginia. With a little more than a week left in the regular season, both teams are still fighting for their post-season seeds. The men's team is two games ahead of second place, and the women's team is in a three-way tie for second place.  
The women's game will start on Saturday in Glenville at 2 p.m., and the men's game is scheduled to start at 4 p.m. Be sure to pick-up next week's issue of the Trumpet for more previews. Follow the Trumpet Twitter for in-game updates.
Click here to watch the game! 
Photo Credit: Hilltoppersports.com