Elbin Library provides plenty of resources, quiet places to study
Step aside Valentine's Day, we're spending February hitting the books and celebrating National Library Lovers Month. I don't mean literally, please don't damage books.
Library Lovers Month is dedicated to celebrating school, public and private libraries. For those of us on campus, there is one particular library that has earned more than its fair share of recognition.
Here are some ways that you can show your appreciation and get the most out of West Liberty University's Paul N. Elbin Library.
Keep it clean
The library is available to anyone, and while it may be free, there are rules. Make sure all waste is properly disposed in the waste bins or not left on tables or floors. There is a designated area on the first floor to finish up your lunch and coffees, but no food or drink is allowed in the main part of the library.
Mind your manners
The library can be used as a quiet place to study and relax on campus. Make an effort to keep your volume down. Having conversation is fine and expected, just don't overdo it. Use headphone when listening to music or watching videos, and take phone calls outside. Even though the egg chairs are fun, they are not as soundproof as they appear to be!
Grab a book!
The library offers a wonderful selection of both fiction and nonfiction. Peruse the shelves for your next great leisure read or find a physical source for your upcoming paper. Books can be checked out for 3 weeks at a time and can be renewed as frequently as needed. Elbin Library also has the option to loan materials from other libraries. These can be requested online at westliberty.edu/library/interlibrary-loan/ and usually take up 5-10 business days to arrive, so plan ahead if you need the book for class!
Use your resources wisely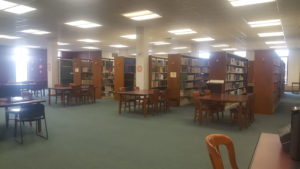 The library offers more than just books for students. Study rooms are available to be reserved online. Printing services are offered for just $.10 per black and white page and $.25 for color. On the second floor of the library lies the Nelle M. Krise Rare Book Room which holds a collection of rare books donated by Krise, a professor of English at West Liberty, upon her passing. The Rare Book Room is open for anyone who wants to take a look.
One of the biggest resources at the Elbin Library is the staff themselves. The library staff are always eager to interact with students and enjoy helping out when possible. "Really, the best way to show appreciation is to be here.  Want to watch a movie on our computers? Go for it. We've got plenty of DVDs. Play a quiet board game. Come to book club. Start your own book club! Use the study rooms. Come get a jump start on your research with help from a librarian. Just come be here.", said Kathryn Zane, Head of Technology and Reference Librarian. 
The staff is available by email, but can also help on the fly at the reference desk.
The Elbin Library is open all week. The Reference Librarians are available Monday through Friday from 8 a.m. to 4 p.m.
Photo Credit: Macy Santicola