Athletic complex, practice facility nearing completion
Each new year brings about new projects here on campus, but the two noticeable acquisitions to the hilltop are the new West Family Athletic Complex and the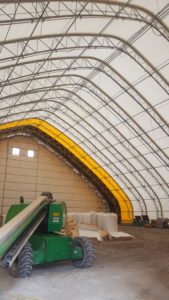 Photo Credit: Macy Santicola[/caption]
"The new facility is a fantastic enhancement for our student-athletes," said Barry Christmas, WLU Women's Soccer Head Coach. "Historically in the winter and spring we have gone off campus to practice. Having the new turf here with the added bonus of lights really assists in having much more flexible training schedules for our student-athletes."
The new indoor practice facility is nearing completion which also saw delays due to weather this winter. "I would say by the end of March  they should be putting the turf down," said Mills. The turf is manufactured mondo turf and it will be featured in the practice facility and the field of the soccer and track complex.
    The projects do not stop there for the maintenance team as Joe Mills and company gear up for the summer. The Wellness Center in the bottom of Krise Hall is going into its second phase of construction. There are several things being done after commencement, including a signage project.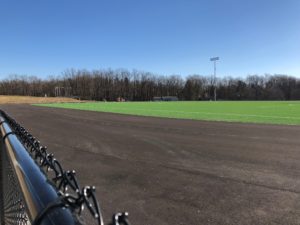 "Once your here for awhile, you know where the buildings are," said Mills. "But, if you come here, new, it's shocking how many buildings are not labeled. The ASRC has no markings on it."
    The soccer and track and field teams will host their home games at the new complex next season. As summer moves closer, The Trumpet will provide more updates on major upcoming Maintenance projects. Be sure to pick up your copy of paper every Thursday.
Click here for previous  updates!
Photo Credit: Macy Santicola