Graduate program offices to move to renovated Shotwell
After sitting idle on campus for several years,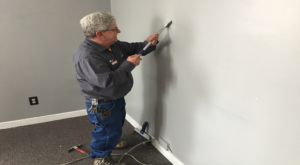 Photo Credit: Walker Polivka[/caption]
Renovations are currently underway on the second floor of Shotwell Hall to prepare for the Graduate Program. "Maintenance is working on renovating the rooms on the second floor," said Fritz Sweeney, Assistant Director of the Physical Plant. "This includes patching holes, painting the walls and ceilings, installing new carpet and floor tiles, and installing a new kitchenette and bathroom."
Once renovations are complete, the space will be available for use. West Liberty University President Stephen Greiner looks forward to utilizing the new space and believes that it will benefit the Graduate Program greatly. Greiner said, "The plan is to move the Graduate Program offices and employees there once the renovation is complete. We also plan to increase the office space for graduate assistants, an area that has grown recently due to an increase in our graduate degree programs. These GA offices may be shared offices, used by more than one GA."
As renovations on the second floor have just begun, it'll take some time for everything to fall into place. However, things should be ready to go once the fall semester begins. Greiner said, "The second floor will be completed by the end of summer. This is the type of work that is best done over the summer so as not to be disruptive to students.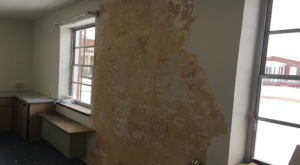 It also offers plenty of time for maintenance to get into the building and work uninterrupted."
While the second floor will be completed by the end of summer, Greiner also notes that more exterior work will be done throughout the summer and there may be other plans for the third floor of Shotwell down the road.
Greiner said, "Also this summer, we will install a new ADA (Americans with Disabilities Act) ramp to allow for access for all students, staff and visitors. There also may be some cosmetic changes on the exterior that we complete as we go along. Following the improvements this summer, we'll look at uses of the third floor."
Shotwell Hall was built in 1937 by Wheeling architect Frederick F. Faris. The building has been listed on the National Register of Historic Places since 1996 and is named for Nathan Shotwell, the first president of then West Liberty Academy.
Photo Credit: Walker Polivka