Kappa Phi to hold suicide awareness walk on campus
Suicide is something that has touched many people across the United States and the world. Suicide is the 10th leading cause of death in the U.S. To help raise awareness and funds for this important cause the Beta Beta Chapter of Kappa Phi here at West Liberty will be hosting the West Liberty University Out of the Darkness Campus Walk on April 6.
The walk will be hosted on the quad and the registration can be done online at AFSP.org/WestLiberty or on the day of the event at 9 a.m. The walk will take place from 9am to 12pm. This walk supports the American Foundation for Suicide Prevention's education and support programs and its bold goal to reduce the annual U.S. rate of suicide 20 percent by the year 2025.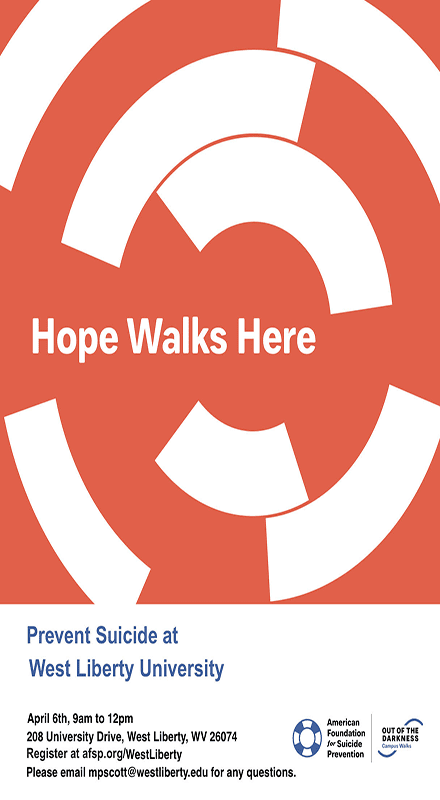 West Liberty's Out of the Darkness Campus Walk is one of more than 550 Out of the Darkness Overnight, Community and Campus Walks being held nationwide this year. The walks are expected to unite more than 300,000 walkers and raise millions for suicide prevention efforts.
Last year, these walks raised over $21 million for suicide prevention. You can support the walk in many ways by walking as an individual or as a team. If you cannot attend you can also you the link to donate towards the walk. Kappa Phi will be having a remigration table in the union in the coming weeks to encourage and help register participants for the walk. This cause is personal and important to many as the walk's organizers understand.
Suicide affects one in five American families. Kappa Phi hopes that by hosting the walk they will draw attention to this issue and keep other families from experiencing a suicide loss.
"Our ultimate goal is to save lives and bring hope to those affected by suicide," said Marisa Scott, American Foundation for Suicide Prevention West Virginia Chapter volunteer and Kappa Phi Service Chair. "
This cause is very dear to my heart and I think that bringing awareness to mental health can be very beneficial to college students in our area. Making a connection with just one person to show them they are not alone and that their life matters can make a tremendous difference to them, their loved ones, and me."
Please consider helping Kappa Phi in their goal of helping save lives with this walk. You can so by attending the walk or again donating through the link online.
Poster Credit: Kappa Phi