WLU marketing department proves to be a team effort
The reason why most West Liberty University students are enrolled at this school is most likely because of an advertisement they saw online. The advertisements go out on all social media platforms daily, but have you ever thought of the process and the people behind it all? West Liberty has their own marketing department, just like every other school. The goal behind having a marketing team is to boost enrollment numbers and to get the students and faculty on campus involved in one way or another.
Tammi Secrist, Executive Director of Marketing and Brand Management explained, "Marketing is constantly changing, whether it's on the creative side or the execution side. We're constantly trying to keep up with what is popular and the standards for marketing." These include using outlets like social media, videography, and graphic design to improve the popularity of their brand. Secrist is currently in her 16th year at West Liberty and has had to make major changes to the marketing department to keep up with the normal standards, but one thing that has always stayed the same is having prospective students and parents as the target audience.
Enrollment advertising and marketing is one of the main facets of the job. The social media advertising is mainly targeted towards students who are interested in coming to West Liberty. However, the marketing department does not just put information on social media. The department is also in charge of official print products, Internet advertisements, and digital billboards, video content, and website design.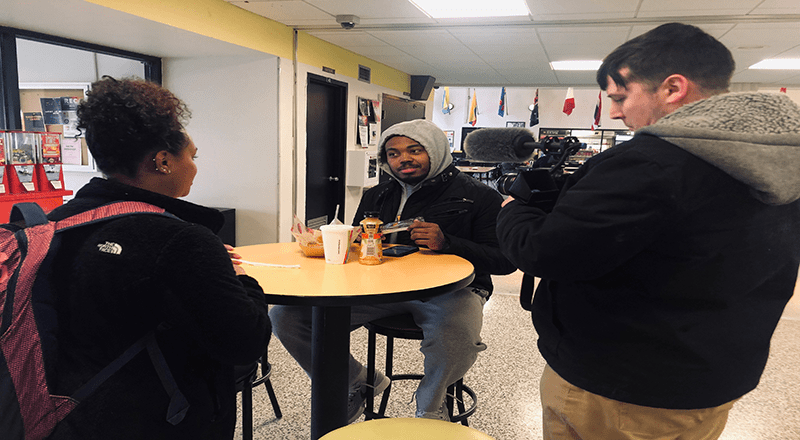 Jared Thompson, Creative Video Director for the Office of Marketing and Brand Management, was the most recent hire by Secrist. Thompson has made commercials for the university in the past, but it was never his full-time job. Secrist decided to go with who she thought was the best candidate for the job, and now he is a huge part of why @discoverwestlib is gaining followers on a daily basis. "Tammi has wanted to fill a video position in marketing for quite a while and everything worked out perfectly in order for me to move over to Shaw Hall. It really has been a great experience," explained Thompson. Since Thompson took over the position of Creative Video Director, West Liberty has come up with many different ways to try and boost enrollment numbers and have a fun and interactive social media account. He is the videographer behind the camera of all the small features on the West Liberty Admissions page. This includes "It's A Major Thing," "Nothing but the FACS," "West Liberty Tidbits," and the most popular of the four, "What's Up West Lib."
Sam Wilson, a graphic designer for the Office of Marketing and Management, is the creator of all official flyers, Internet advertisements, digital billboards, and other print products. According to her peers, she is a very creative and talented artist and she also graduated from West Liberty in 2012. "I've never felt restricted with the little limitations I have. I've always leaned more towards corporate design, so I definitely get creative, but within the limitations that I have," explained Wilson. She also said, "I love being able to work in a field where I have a second opinion, so if I'm not feeling good with something, I might ask someone else to give their opinion on it. We all work together very well in and out of the office."
The members of the marketing department reference the TV show "The Office" a lot within their job. Secrist said, "It's a way that all of us can keep the mood light when things get intense. Sometimes if were talking, I'll say, you remind me of this character, and you remind me of that character." The marketing staff has great communication with one another in and out of the office. They always work together as a team and put the university's best interest at heart. Communication is very important in a field like marketing. The department does not just work with admissions. They worked very closely with public relations, athletics, and many other organizations at West Liberty.
One thing that you would never realize about the marketing department is they are a resource to everyone at the university. They offer marketing services to clubs and organizations on campus that need help with photography, videography, and website development, which is run by Whitney Inkster, who works remotely in Florida. The department is trying to get more clubs and organizations involved on social media by starting Instagram takeovers as well.
The marketing department has access to Facebook, Twitter, Instagram, and YouTube. It is staff of four people who support the entire university and put the university's best interest at heart.
Photo Credit: West Liberty University Admissions