Shazam zaps his way into theaters
For eleven years now, superhero movies have been coming out at a fairly steady pace and don't show any signs of slowing down. Marvel set the standard and held strong for years and DC entered the fray a few years later.
DC's initial entries into the cinematic universe, sans Wonder Woman, weren't particularly strong or well-received (some more deservedly than others). Comic book fans everywhere began to lose hope that their DC faves would see justice on the big screen. This was justified in a lot of ways and rumors of behind the scenes drama, movies delays, script rewrites, and the like certainly didn't help.
And then, luckily for DC, along came Wonder Woman, later Aquaman, and now DC's latest film: Shazam. All three of these movies are showing a new side to DC live-action films and the potential they have for the future. These movies are proof DC is capable of delivering, something
Shazam is about Billy Batson – the OTHER Captain Marvel– and his foster family, as Billy attempts to locate his birth mother and overcome years of cynicism and bitterness.
As a film, Shazam is magic – -both literally and metaphorically. It's a light-hearted and fun adventure that flies in the face that superhero flicks have to carry a serious tone to be good or successful. It's charming and sweet, humorous, and just plain fun. Billy might be a cynic, but becoming a superhero brings out his inner joy, as well as the audence's when they see him grow and change as he adapts to his powers.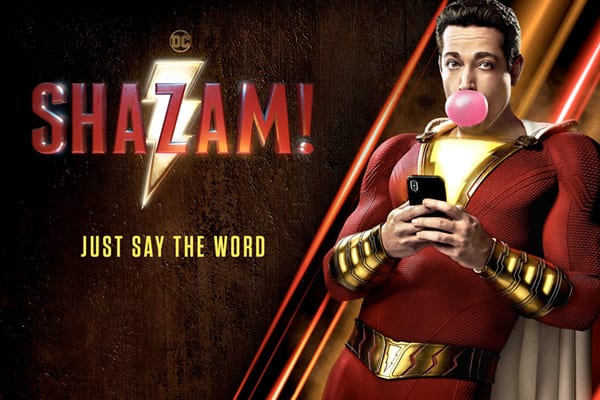 Asher Angel and Zachary Levi share the role of of Billy, a young boy who, by speaking the word 'Shazam!" transforms into a superhero. Shazam is: the wisdom of Solomon, the strength of Hercules, the stamina of Atlas, the power of Zeus, the courage of Achilles, and the speed of Mercury, a nice array of powers for a teenager searching for a home to try to handle.
Billy has been moved from foster home to foster home and finally finds one that seems to work. He ends up bonding well with his newest family and is able to confide in his new foster brother Fredy (Jack Dylan Grazer/Adam Brody) about his powers he received from a dying wizard (Djimon Hounsou) – they end up becoming a team and it is, quite frankly, hilarious.
The villain, while excellently played, is one of the least exciting parts of the film. Doctor Silvana (Mark Strong) is appropriately creepy and well-developed throughout – he is certainly good as a threat and his appearance works.
But, the real appeal here is in the Shazam family dynamic and watching Billy try to navigate his way through his troubles, looking for his mother, and adjusting to his new foster family. Billy is one of the most likable heroes we've seen in a long time and Shazam is, really, just a movie about a kid trying to find himself and trying to do the right thing. There's no real deeper lore to it, no other motivations, no complicated plot twists and turns, no deep meanings to uncover.
And sometimes, that's all you really need. In an age where superhero movies are dark, there is endless loss, and our leads have to suffer to be better, Shazam is a bright spot.
Shazam is definitely worth a viewing. If you're like me, you'll laugh, you'll cry, you'll want to yell at the screen. But, you'll leave the theater with a full heart and a smile on your face.
Photo Credit: IMDB.com