Todd Ullom and Student Involvement
Most Division I athletics are broadcast through national networks like ESPN, CBS Sports, and regional networks throughout the country. Typically, at the lower levels of Division II and Division III, athletics are broadcast through university-run student production crews. West Liberty University is a prime example of this. WLU-TV 14 has been broadcasting West Liberty sports for over a decade. Throughout its tenure in sports, there has always been a consistent play-by-play commentator. These people include Reid Amos, who is now the commissioner for the Mountain East Conference, Kyle West, and Todd Ullom, who is the current commentator for all West Liberty sports. All of these people had certain roles during their time as play-by-play commentator. Reid Amos took the role of public relations for Channel 14, and Kyle West took part in recruitment of broadcasting students. While these two roles are very important to the production crew and the university, Todd Ullom mainly focuses on student involvement. Over the last several years, Ullom has made a large impact on students in the crew, but the students have made an even larger impact on him.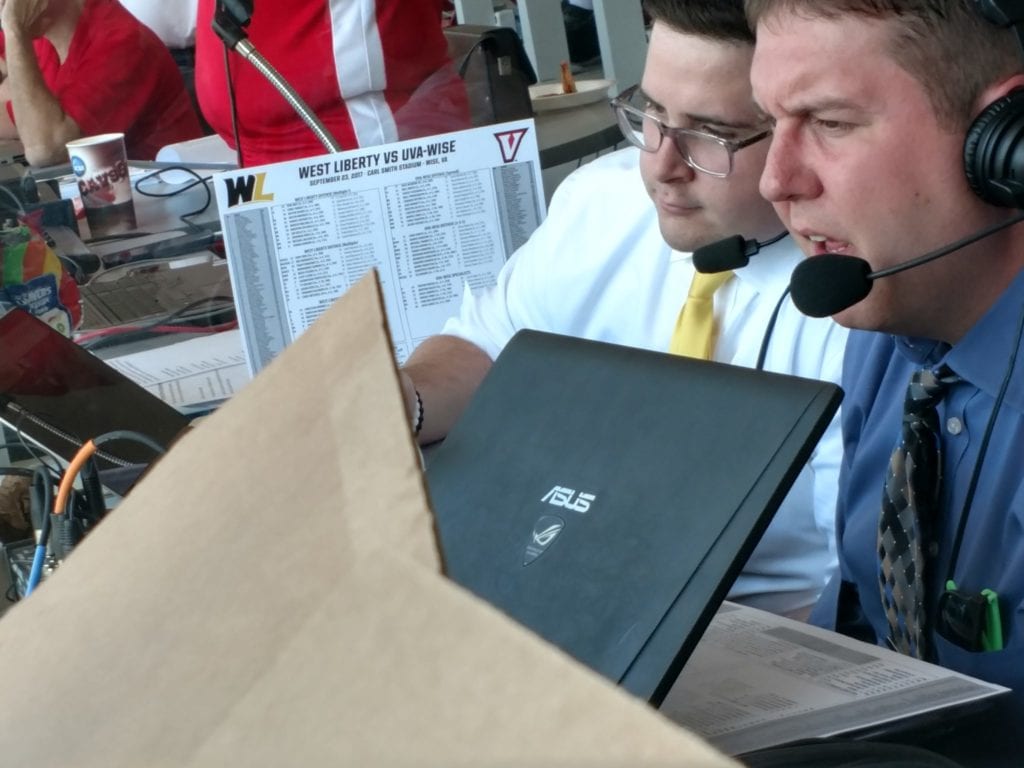 "I actually learned most of the live production stuff from students and after I had graduated from West Liberty," Ullom said. "I'd like to think I've made a little impact on them, but they have definitely made a larger impact on me." According to Ullom, the students are the most crucial part to the success of the production crew. The students come in ready to learn and have great potential to go far in their careers. Todd Ullom wished he had that type of motivation at that age. 
Todd grew up in Wheeling, West Virginia. He was raised like any other Ohio Valley child, going outside and playing on the street with the other kids, and watching the Pittsburgh Penguins on TV. Ullom's family was obsessed with every Pittsburgh team, and would often make the trip to see the games in person. Not only did Todd watch the sports on TV, he played them as well. He grew up playing football and hockey, and even played for Wheeling Central when he was in high school. Even though his family worshiped sports, Todd never saw himself being a part of them past high school. Todd played sports in high school, but knew he was never good enough to play in college. 
When Todd graduated from Wheeling Central, he went to get a college degree at West Virginia University. At certain times, Ullom couldn't find the motivation to go to class, and never really knew what he wanted to do. He eventually dropped out of WVU and decided to start coaching grade school football. Eileen, Todd's mother, said, "When he decided to leave WVU, I hoped that he had not given up on a college degree. I did understand that maybe WVU just wasn't the right fit for him." A couple years had gone by and Todd eventually found the strength and motivation to go back to school, so he decided to enroll at West Liberty University. He had studied communications at WVU and decided to give it a second chance at West Liberty. When Ullom started classes in the fall, he realized there was a broadcasting side to his major and found it very interesting.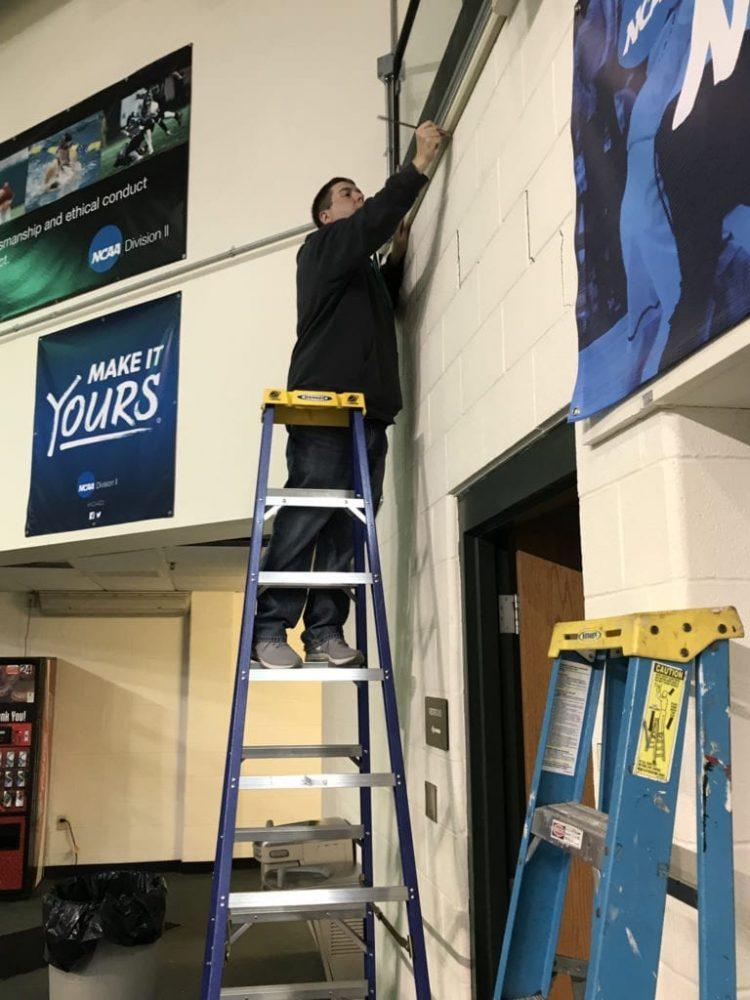 Todd got asked to help commentate football games for the university's radio station, 91.5 WGLZ. He mainly did it because a couple of his friends were doing it too, and it was fun for him. He continued to call the games for WGLZ until he graduated from West Liberty. 
After graduating, Todd got a job at a local radio station in Wheeling to call some of the high school football games in the area. Theresa Gretchen, executive producer of WLU-TV 14, noticed Todd's talent and wanted his personality for the student production crew. Even though Todd was not a student anymore, he took on the gig hoping he would be the next play-by-play commentator for the Hilltoppers. However, he realized that there would be some waiting to do, as someone else currently held the position. Ullom started learning the ins and outs of live sports production. He eventually became a producer for the sporting events and got a lot of experience in the production truck. He was also able to point out other peoples' mistakes and learn from them through that experience. Being a producer on the crew for three years really taught Todd how important student involvement is.
Todd's mother always knew he loved sports. Eileen said, "He would often watch videos of professional teams playing and would imitate the broadcasters and try to know every work by heart." Since Todd grew up playing sports, he loved being a part of a team, and because of this Todd treats the student production crew as team. He really enjoys the students on the crew because they're willing to learn and help him out whenever he needs it. "The students have helped me a lot throughout the years. It's really hard to name one moment because I learned something new every day from them. Since I've taken on making graphics and video editing, the students help me out as much as possible with that kind of stuff. It makes my life easier, and it shows the students that they know what they're talking about," Todd said. 
Ullom really enjoys that he can learn from the students and feels that the students had helped him out more than he has helped them. Kyle Patrick, a senior at West Liberty and the person who has been the color commentator by Todd's side for two years, said, "Todd gave me the opportunity to be on air as a student, and I've been able to travel with him on away basketball games, so I definitely feel like we've bonded and have created a great working relationship. He will definitely be one of my biggest mentors throughout my entire career."
Corey Knollinger, a senior crew member at West Liberty, said, "He's always kind of here to hang out with, which is pretty cool. Even though I don't work sports production anymore, he still makes me feel important on the crew, and tries to involve me as much as possible. When Todd was trying to get the play-by-play job a few years ago, I told my boss that if he didn't get this job, I was going to riot on the quad, so I'm pretty happy he got it." 
Isaac Basinger, a freshman on the student production crew, said, "I'm very exciting to be taking over for Kyle and be able to call games with Todd. I know no matter what that Todd will treat me like any other person, and I have nothing to worry about in the future. We're both Wheeling Central graduates, so I feel like we have a connection and are able to talk about that."
The production crew members can all agree that Todd has made a significant impact on their lives and their future careers, but what the students don't seem to realize is that they have made a bigger impact on his life. Todd is excited when new members come in and is disappointed to see them leave. At WVU, Todd learned about who he was as a person, and that knowledge has helped him throughout his time at West Liberty. The experience he has had and the friendships that he has created has made the person he is today. You will never find a crew member who is not thankful for Todd Ullom, and that is what separates him from the "voice of the hilltoppers"in the past. They all have gone on to different careers, but Todd plans on staying at West Liberty for a while. 
Todd always says, "Don't take time for granted. Continue to learn, and once you get that opportunity, you're going to be more prepared."
Photo & Audio Credit: Lauryn Fridley