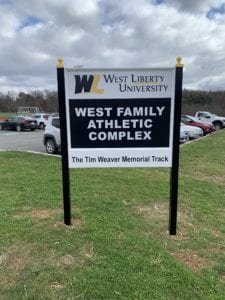 Our athletic department is benefiting from the generosity and time commitment that our donors give to us.  This can clearly be seen in our brand new state-of-the-art athletic complex and track.  The West Family Athletic Complex and Tim Weaver Memorial Track is located along Faculty Drive, across from Campbell Hall.  
        The complex that was officially opened this fall for use by our men and woman's soccer teams includes a fully-lighted artificial turf field.  With the field being fully-lighted, it provides the teams the flexibility to schedule matches and practices during evenings.  This drastically helps our student-athletes break up their daily schedules by not having both class and soccer responsibilities during the day.
        Prior to their new field, both teams would have to travel 20 minutes to 16th Street Field in Wheeling for practice when they were preparing for teams that had a turf home field.  "The new field has honestly just made everything easier for us.  We don't have to worry about where we are going to practice or if our class schedule will interfere with our soccer schedule, we just go out there and compete," Jordan Smith, a junior on the woman's soccer team, said.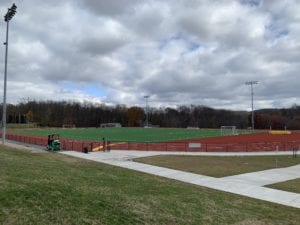 The turf field is surrounded by a full 8-lane all-weather track.  With the track being up to the NCAA regulations, it gives our track and cross-country team the privilege to host meets.  This is something our university has never been able to do before due to lack of facilities.  Our university should reap the benefits of this because of the revenue that is generated from these meets. 
        From not having a full track at all, to having one of the nicest in the conference, our track and field athletes are ready to compete in their upcoming season.  Justin Simpson, the head coach for track and cross-country, had a strong response when asked about the impact of the new facilities.  "Having a track facility means everything for our continued improvement within our conference and overall development as a team. Not having a track was like a basketball team not having a court. We need a lot of space to be able to function.  Thrower, jumpers, sprinters, hurdlers etc. now all have a place to practice their specific events. We look forward to improving in all aspects come the outdoor season," he said.
        The team starts their outdoor season on March 2nd as they will travel to the University of Charleston to compete.
        The new facilities were all made possible by the continued devotion for athletic growth by our donors.  Two donors in specific, Gary and Flip West, lead the way to help get this complex built.  They were able to get the project underway by donating a whooping $1,000,000.  David and Ann Coffaro also made hefty donations to get the project finished. The donors along with Tim Weaver's family were acknowledged during our Homecoming Weekend with a dedication ceremony. 
        Tim Weaver was our track and field coach from 1974 to 1979.  He brought the program to dominance during his short tenure as the head coach. 
        Present at the ceremony were Gary and Flip West, David Coffaro, Sally Weaver Hartory (Tim's sister), Betty Weaver (Tim's widow) and Kallen Weaver (Tim's daughter).
        If you want to learn more about our new facility, the athletes that compete on it or the people who made it possible, please go visit hilltoppersports or complex dedication.
Photo Credit: Thomas Cole