Interactive Showing of The Book of Hours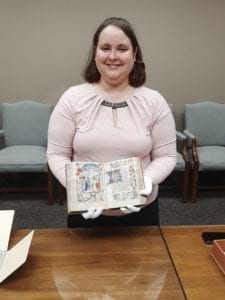 The Book of Hours is usually kept safe in the Rare Book Room, which is located on the top floor of the Elbin Library.  On Oct. 7th, the Book of Hours, along with other rare books and literary pieces, were shown at the WLU Downtown Center in Wheeling from 5 to 7 P.M. This was an interactive showing that included being able to put gloves on and hold books that are centuries old.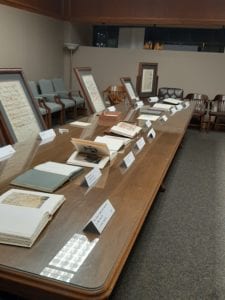 West Liberty's librarian, Katy Zane, is an expert on the Book of Hours. She was there to explain the depths of how and why the book was made. They could be used for research for assignments. Zane explained that anyone on campus could ask about and read any book in the Rare Book Room. The literature shown at the event was just a small portion of what is held in the Rare Book Room at the Eblin Library. 
         The Book of Hours contains a calendar, filled with red-letter days, certain songs and scriptures, charms, and prayers for certain hours of the days. This is the closest thing to a bible that the people would read because they weren't allowed to have bibles at that time. 
         At the event, Zane said, "Students will never, likely, in their life have the opportunity to go handle the book of hours outside of a museum. So, take advantage of that. You're not ever going to be able to go up to a museum and be like, 'Hey, I want to turn the pages, let me look at it. Can I smell it?'. So, come and look and handle and smell the pages. Check out the artwork, because you don't have that chance anywhere else. Anywhere else it is behind glass and it is super protected." 
        For more information, please visit this article!