5 Christmas Gifts under $20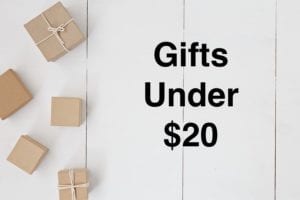 Yes, it is that time of year again! The cookies are being baked, and the real and artificial Christmas trees are being bought, cut down and trimmed. Online markets and retail stores are sounding like a huge handbell ensemble with their annual charity bell-ringing! Almost everyone has composed, or are composing a wish list for dear old Santa and his little helpers to start preparing all the toys, machines and gadgets. The majority of us just love having piles of presents waiting under that fancy, pre-lit Christmas tree when the holiday season comes around! You're too busy trying not to spend that much money on a big gift for your family and a few of your good friends. If you're a college student, sometimes coming up with money can be difficult. 
        We all want to give a little something to bring happiness to someone, even if we or that someone is a total holiday miser. This shortlist of the five gift ideas can help you narrow down a couple of options of what to give this year. No matter if it's a travel mug, a phone charger or a much-needed ice scraper, it's just nice to let someone know that you're thinking of them this Christmas.
          1.  Ice Scrapper 
        Ah, nothing could be more frustrating risking a credit card to break up stubborn patches of ice from the previous night's deep freeze of a vehicle's windshield. Even after waking up in the morning in pajamas, hurrying outside in the bitter cold to the car and starting the engine, there is still a frosty winter wonderland all around the exterior. Your loved one has been in need of an ice scraper but had been too busy to go out and get one. You can purchase ice scrapers virtually anywhere, but Walmart also carries a variety of them that are under $20. So, if you want to get a head-start on Christmas shopping and finally get your loved one or a friend something small but necessary, the ice scraper is a way to go!
          2. Hair Accessories 
        You're a college student trying to find some things to get for your family and friends for Christmas. Consider the fact that you plan to have a little gift exchange with a few good friends from work or school before winter break. Perfect! You've just done all your Christmas shopping for your friends on the gift exchange list but totally forgot to grab something for your sister. You just spent $15 bucks at Walmart for the exchange, and you only have $10 left in your wallet. No problem! Almost any and every retail store will have a health and beauty aisle. Hair accessories are those items in the beauty aisles that appear to be staring at you, as if saying, "I'm here! Come look at us! We're only $5 to $10 dollars!" There are just rows upon rows of accessories ranging from ponytail holders of all sizes and colors to hair clips with tiny sleigh bells and red bows on them. 
          3. House Slippers
        Oh yes, nothing can bring out the holiday spirit in a more cozy and cute way than a pair of "Rudolph the Red-Nosed Reindeer" house slippers! A pair of Entertainment Super Soft Indoor Reindeer Slippers from Walmart costs $13.94. If you're wanting to give someone a pair of warm, fuzzy comfortable shoes to wear with a steeping cup of hot cocoa, you really can't go wrong with some inexpensive but quite lovely house slippers! 
          4. Travel Mugs
        Even with the glad tidings of comfort and joy, we still have our sluggish mornings. We need a daily dose of caffeine to boost up our alertness and get the day started. However, with the fast-paced society we live in now, people really can't sit down on the sofa and sip on a freshly brewed cup while watching the morning news or getting ready for work. That's where the travel mug comes in. These easy-to-carry cups allow for taking a cup of coffee on the go. The mugs often have tops where the consumer can flip back a latch and drink out of an opening or hard plastic straw. Dollar General has travel mugs that cost anywhere from $3 to $20 dollars. Other places you can go to find these are Walmart and some department stores like Macy's. If you know someone who loves to have their coffee in the morning but can never find enough time to sip on it, the travel mug may just be a good idea for a Christmas gift.
          5. Candy
        Everyone likes a stocking full of sweets, especially the children come to Christmas Day. Walgreens, Walmart, and other retailers are the go-to places in case you need to pick out tons of candy as stocking stuffers. A sock with nothing but York Peppermint Patties in it is always nice! These things only cost about $5 to $15 dollars for a 6-ounce bag. Other good items to think about (if no one has any peanut allergies) is Reese's cups. Smarties are the perfect treat for anyone with any food allergy in the book, plus it's a good candy for diabetics. According to a recent Facebook poll, 50 percent of people voted that candy was their most favorite "cheap" Christmas gift they received last year. To say the least, candy is the ultimate quick and most inexpensive of Christmas gift ideas.
        Christmas is a time of year to be thankful for your family and friends. Whether you're a college student running low on cash, or just trying to find something that is meaningful but inexpensive, these five gifts are your perfect fit!