Fall 2019 Commencement this Saturday–163 expected to graduate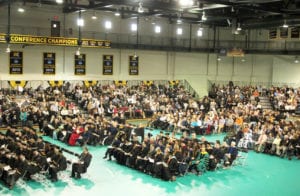 West Liberty University's 2019 fall graduation is set to take place on Saturday, December 14th at 11 a.m. in the Academic, Sports and Recreation Complex (ASRC) on the WLU campus. A total of 163 students are expected to graduate this fall and summer graduates are also invited to walk in the ceremony.
          Dr. Sarah Armstrong Tucker, a Wheeling native, and current interim chancellor of West Virginia's Higher Education Policy Commission (HEPC) and chancellor of the Community and Technical College System (CTCS) is featuring as the commencement speaker at the ceremony.
          "We are fortunate to have Dr. Tucker join us for our December ceremony. She is a champion for West Virginia students and supports higher education in many ways and at many levels. We are honored by her presence," said WLU President, Dr. Stephen Greiner.
          Greiner, who is presiding the ceremony will give Tucker an Honorary Doctor of Humane Letters degree for her work in the West Virginia higher education system.
          Tucker is the first woman to hold the position of chancellor for the CTCS and the only person to hold this role alongside her role as chancellor of West Virginia's HEPC. Since taking on the role of chancellor for the CTCS in 2015, West Virginia's technical colleges have seen a notable level of growth. Partnerships and links between colleges and businesses have also risen throughout Tucker's time in the position.
          Robert C. Moore, graduating from the College of Arts and Communication will be the student speaker at the ceremony, each student with the highest grade point average in their respective colleges will lead out their peers as banner carriers.
          Graduation is an important moment in any college student's life as it symbolizes the start of the next phase of their lives. "I am very excited to graduate and start this next chapter in my life. I am excited to see where I end up!" said graduating senior Lindsay Dowdle.
          Parking for the event will be available behind the ASRC building, and seating for guests will open at 9.30 in the morning. Those walking in the ceremony are required to be in the appropriate position by 10:15 a.m.
          Congratulations to our Fall 2019 graduating class!