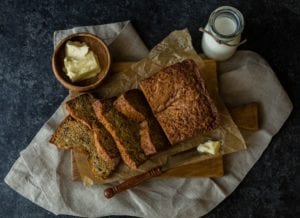 Being stuck in the house has been rough for all of us. Take your mind off of the world for a little bit and ease some boredom to make delicious banana bread! This bread is so simple and easy to make, and it is a healthy treat that everyone in the family can enjoy.
          The beauty of this bread is that it requires no fancy mixing machine. A mixing bowl, a fork to whisk up the eggs and a good sturdy spoon is all you need to mix up the ingredients into the batter. Of course, if you have a mixing machine and would like to save yourself the work of manual mixing, you can do that as well. The amount of sugar can be adjusted. The recipe calls for one cup of white sugar, but most find that the bread taste just as good with 3/4 of a cup of sugar. If you want the bread to be even less sweet, just use 1/2 cup of sugar.
           Although the recipe itself does not call for it, you can add a cup of chopped nuts, raisins, or chocolate chips into the batter to add your own little touch. You could also put the batter into muffin tins to make banana muffins instead of bread.
Banana Bread Recipe
Prep: 10 minutes
Yield: Makes one loaf
Cook Time: 55 minutes to 1 hour
Note: The best banana to use for this recipe are those that are over-ripe. The peels should be at least half browned, and the banana inside should be squishy and browning.
INGREDIENTS:
2 to 3 (very) ripe bananas, peeled (approximately 1 1/4 to 1 1/2 cups mashed)
1/3 cup (about 5 tablespoons) melted butter, unsalted or salted
1 teaspoon baking soda
Pinch of salt
3/4 cup sugar (1/2 cup if you'd like it less sweet, 1 cup if you like it sweeter)
1 large egg, beaten
1 teaspoon vanilla extract
1 ½ cups of all-purpose flour
DIRECTIONS:
Preheat the oven to 350°F (175°C) and butter a 4×8-inch loaf pan.
In a mixing bowl, mash the ripe bananas with a fork until completely smooth. Then, stir the melted butter into the mashed bananas.
Add the baking soda, salt, sugar, beaten egg, and vanilla extract into the ripe banana/butter mixture. (NOTE: Do not forget to add 1 cup of your chopped nuts, raisins, or chocolate chips into the batter if you want to add your own touch.) 
Slowly stir in the flour into the mixture.
Pour the batter into your prepared loaf pan. Bake for 50 minutes to 1 hour, or until a tester inserted comes out clean.
Remove from the oven and let the bread cool in the pan for about 5 minutes. Then, remove the banana bread from the pan and completely cool before serving.
Slice, Serve, and Enjoy!
          For more West Liberty updates and fun activities like the recipe listed above, follow The Trumpet Online and on our Social Media platforms, Facebook, Twitter, Instagram. Have a great day Toppers!