One Last Round for Officer Kelso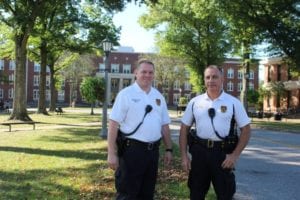 In January 2020, West Liberty campus police officer James Kelso quietly announced his departure from the university. The small and exclusive group of people that found out were stunned by the news, but most students at West Liberty still do not know that Officer Kelso left. Kelso was a key figure in making sure the university was safe, but also made a major impact on students' lives. Some students have stories of Kelso when he helped them during a serious situation, and some have funny stories that they'll never forget.
          James Kelso grew up in Pinehurst, N.C., which has a large retirement and golfing community. He attended college at UNC-Pembroke and graduated in 1996 with a health and physical education degree. He decided to attend the police academy at Sandhills Community College because of his grandfather, who was his mentor and also worked in law enforcement for a short period of time. Kelso's law enforcement career began in 1999 with the Southern Pines Police Department before becoming a school resource officer for 15 and a half years. In 2017, he decided to apply for an officer position at West Liberty University. West Liberty Chief of Police, Joe Montemurro said, "I was very impressed when I saw his resumé because he had an educational background in teaching and as a school resource officer. I wanted to bring him up here and the administration was really excited to get him here because of his qualifications. It's really hard to find somebody like that who wants to become a campus police officer."
          Kelso started his job in April of 2017 and immediately made an impact on the department and the university. Kelso started out as a patrolman, but soon became Chief Montemurro's, right-hand man. "He had a way about him that made connecting with the faculty and students very easy," Montemurro said. He would soon become the assistant chief of campus police and would take on more responsibilities within the department, but that never stopped him from making more connections on campus. 
          Annalise Murphy, a freshman journalism major at West Liberty, said, "I had just graduated high school and was really nervous to come to college. I was walking around campus desperately trying to figure out where I needed to go. Officer Kelso was in a patrol car and pulled up next to the sidewalk where I was walking and asked what I was looking for. I told him that I was just trying to figure out where my classes were. He quickly said, 'Oh! Let me park and I'll walk you around campus and show you everything.' He definitely was one of the biggest reasons I knew that West Liberty was the right choice for me." 
          "The one thing I'll miss the most is the relationships I formed with students, faculty, and staff. I felt a great connection to everyone there," Kelso said. Students who knew Officer Kelso also felt that connection. A student, who wishes not to be named, said, "I was going through a really tough situation, so I told Officer Kelso about it just to be safe. Even after everything was resolved, he would ask how I was and remembered my name and everything." Whether a student's story is heartwarming or funny, Kelso has touched the lives of many students on the campus of West Liberty. 
          During finals week of my sophomore year, I became very dizzy and dehydrated and eventually passed out in the middle of a hallway. Officer Kelso was the person who responded to the scene and made sure that I was safe and responsive throughout the entire situation. A couple of days later, I saw Kelso again, and he immediately recognized me and was super happy and relieved to see that I was doing better. Even after summer break had passed, he still remembered my name and who I was and would constantly remind me to keep drinking water.
          There are plenty of more stories that students have about officer Kelso, and those stories will continue to live on in student's minds forever. In his short three years at West Liberty, officer Kelso saw many great changes to the university, but one thing that stayed constant was his impact on everyone. "We truly miss him in our department and on campus. We don't really have someone that can connect with the university like he did. You don't find people like that every day," Chief Montemurro explained.
          Kelso now resides back in Pinehurst, N.C. with his wife and children. He said, "I have been in law enforcement for over 20 years, the three years I spent at West Lib were the best in my career. I know I will never forget West Liberty. I felt a great connection to everyone there. I just hope everyone knows how much they impacted my life. I truly miss everyone."