20-year-old college dropout living in a van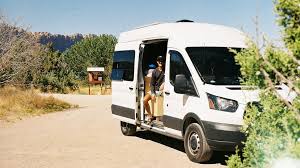 Title: 20-year-old college dropout living in a v an
Written by: Justin Geery
Image:
Photo taken by Zach Levet
Retrieved from: article_c307600e-ab73-5d55-93f8-5cf5a50aabf3.html
Imagine calling a sprinter van your home, car, and most prized possession all at the same time. Zach Levet, a 20-year-old college dropout, began a new chapter of his life when he began living in a van and traveling the country at just 19-years-old.
Zach Levet began the traditional lifestyle of chasing a college degree, however, after his freshman year his life began to change. Zach saw an opportunity and decided to convert a sprinter van into his home and travel the country while making YouTube videos.
The Richmond, Virginia native graduated from Deep Run High School in 2018. He went on to attend the College of William & Mary in Williamsburg, VA, which has an acceptance rate of 37%, where he would pursue Division One athletics. At William & Mary, Levet had an unexpected freshman year.
Levet's YouTube channel began to grow and gain some traction. More of his time and focus began to shift towards this passion leaving his grades to suffer. He was actually placed in a study hall for his second semester because of his poor report card. Levet said in a YouTube video, "I really don't like libraries. I don't get much done there."
"My life that second semester was: Me going through a rut every single day," said Levet. He was very unhappy with the way his college experience was going, which led to a fork in the road. His life had come to a choice of pursuing a degree at William & Mary or following a passion for creating videos on YouTube. Levet announced on his channel, in the summer of 2019, that he would be dropping out of college.
A few weeks later, Levet made the decision to convert a sprinter van into his mobile home. In nearly two months time, he was able to convert the van into a fully functional mobile home with a bed, mini-refrigerator, working sink, lights, and power that was generated from solar energy. Before he knew it, he was traveling the United States.
Levet has traveled to Boulder, CO; Los Angeles, CA; and Venice CA where he currently resides. Levet's travels have led to some great views and pictures that he has documented on his Instagram page and Youtube channel. In an interview with Levet, he commented on California where he currently lives; "It's beautiful out here! I wake up everyday to this and feel like I'm in a movie!"
Levet is also an avid runner. He competed last year in the California International Marathon in hopes to qualify for the Olympic Trials. Falling short, he was contacted by Nike and sponsored to race in The L.A. Half-Marathon. Nike has flown Zach to New York for exclusive gear releases and sent him unreleased gear in preparation for the race.
The race was canceled this summer due to Covid-19. However, Zach continues to travel in his van and run. His travels are documented on his YouTube channel.
Leave a Comment