Lady Toppers prepare for their basketball season while following CDC guidelines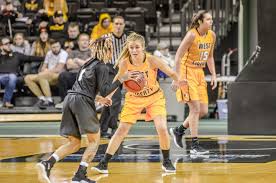 Season Preview: West Liberty Women's Basketball. Maxwell Fiedorczyk. Trumpet Issue 7
With basketball season right around the corner, the West Liberty University Trumpet was lucky enough to sit down with WLU Women's Basketball Head Coach, Kyle Cooper. Cooper, who has been the team's head coach since 2017, had great remarks about his team as they prepare for the upcoming season, in spite of uncertainties regarding the ongoing COVID-19 pandemic.
When asked about how COVID-19 affected his team's season last year, Cooper brought light to an otherwise unfortunate series of events. Per Cooper, "the reality was that this team still had so much more to work towards for the spring, so it was definitely a shock." He continued, stating that, "finishing .500 is not good enough, we do not want to be at that mark. While we did play well down the stretch, winning 4 out of the last 6 games… we have some players that are unbelievably hungry, and for them to not get the opportunity to progress collectively was very hard on us."
Perhaps what Cooper was most proud of during these times of uncertainty was how his staff responded to the unexpected adversity, stating, "we were very organized and very intentional in our approach to what we were, and what we were able to do. As a staff, we immediately had a game plan." Cooper applauded the team's strength and conditioning coach, Cassie Seth, in particular, stating that she, "provided our players with the necessities they needed, without having access to the team's gym and facilities."
There is no doubt that being apart from one another took a toll on Cooper's team, as he commented that, "this team is grounded through family bondage, as these relationships that we have built have often required us to be in person. But, we have been great about wanting to get better, and ultimately growing from it, as it has been giving us a stronger appreciation for when we are together; whether it be on the court, offices, team meals, or whatever it may be."
When asked about some of the things Cooper and his staff have done thus far to ensure the team is living up to the established expectations, he discusses the team's mission: staying ready. Cooper acknowledges that, "we are not perfect with that by any means, but as a program I do think we are doing everything we can to stay accountable to one another so we are ready to perform when the time comes to play again." As far as expectations go, Cooper stated that his group, "wants to eliminate looking at the end results, which was one of our issues last year as a program…we want to center around falling in love with the process, the day to day, and enjoying the moments we get."
Cooper made one point loud and clear about his team moving forward: they are hungrier than ever. With five out of the twelve rostered players being newcomers, whether it be via transfers or first time freshmen, the Lady Hilltoppers are looking for players to step up and lead. Luckily for them, they will not be looking for long. When asked about team leaders and those standing out in the locker room, Cooper mentioned senior Guard Audrey Tingle. According to Cooper, Tingle is described as a "versatile player with an unbelievable motor. Audrey is the type of player who flirts with triple-doubles constantly, and in a point guard driven system, her value to us is off the charts. She is a leader both vocally and by example. As a true Senior and a four year starter, it is her team to lead, and gets that necessary support from others."
He also mentioned redshirt seniors Olivia Belknap and Jaclyn Kitts, stating that, "both of them bring tremendous value to this team. Belknap is more of a lead by example type of player, who plays hard, and demands her teammates to do the same. Kitts is the mother head of the team, who constantly keeps us going, and is a coach's dream when it comes to leadership and experience."
Cooper also talked about the emergence of Sophomore Guard Corinne Thomas, who got valuable minutes as a freshman last season to aid in her development. "Thomas does so much more than shoot the basketball," Cooper said. "She is going to be one of the future leaders of this team." Cooper continued, complimenting the development of Sophomore Guard Grace Faulk. "Faulk provides us with a scorer that has a whole other confidence that is really refreshing to see. As a coaching staff we knew it was coming, it was just a matter of when."
With a core group consisting of Tingle, Belknap, Kitts, Thomas, and Faulk, along with the castes of Sidney Reed, Lindsay Humbel, Karly McCutcheon, Jenna Riccardo, Arriana Manzay, Amaia Johnson, and Tasia Staunton, the Lady Hilltoppers have a bright future ahead of them, and that future can begin as early as this season. Cooper and his team often use the phrase, "iron sharpens iron," when discussing the mentality amongst these twelve players. With the evident passion that Cooper brings when discussing his team, along with the motivation and drive to succeed from his players, the West Liberty University Women's Basketball team has the opportunity to achieve something special this season.
Leave a Comment
About the Contributor
Maxwell Fiedorczyk, Sports Writer
Maxwell Fiedorczyk is currently a senior at West Liberty University. A native from Weirton, W.Va., Fiedorczyk serves as the sports writer for The Trumpet....