Senior Men's Soccer Profile – Bernardo Vilchis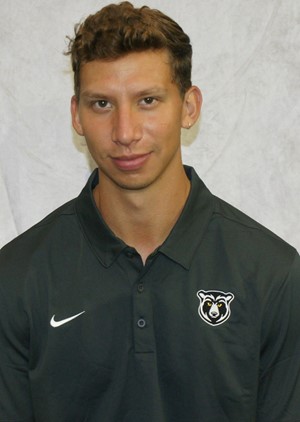 Bernardo Vilchis is a senior on the West Liberty University Men's Soccer team. A two year starter on the squad, Vilchis has a significant influence on the team both as the leading scorer with 5 goals in 2019, and as a captain.
Hailing from Mexico City, Mexico, Vilchis started his collegiate soccer career at neighboring NCAA Division III Bethany College. "I got to WLU as a transfer student from Bethany and decided to stay because the team was very good and the business core for my major was very interesting," said Vilchis.
Vilchis is listed on the roster as a defender but has also made an impact on games from a midfield position. While playing at Bethany, Vilchis was listed as an All-PAC defender with two goals and three assists as a true freshman. During his junior season as a Hilltopper, Vilchis was the team's top scorer with five goals and set a school record by scoring in four consecutive matches. Vilchis also made the 2019 All-MEC first-team, a standout achievement.
Academic success can also be added to Vilchis' list of achievements. As a general business major, Vilchis has made the MEC Commissioner's Academic Honor Roll twice. After graduation, he says, "I hope to find a job in the States or continue to play soccer in a pro team … in the States or in other countries if possible, that has been the plan since the beginning."
Due to the COVID-19 pandemic all fall sports, including soccer, were postponed until spring 2021. This unorthodox season will have a reduced number of games all of which will be played within the MEC. "I have very high hopes for the spring season as we have a lot of experienced players," said Vilchis. "The juniors and sophomores are getting better every day, and we have a very good freshman class. I think this team is made for big things."
As a captain, Vilchis is expected to take on a leader's role in the spring. Regarding his captaincy, he said "It is an honor for me as you have to represent an important role when you are the captain. I always push myself very hard and try to lead by example on the field and in the classroom. I want to be remembered for what I did for this program."
The NCAA has granted athletes impacted by the pandemic and extra season of eligibility in their sport. However, for many taking this extra semester can have an influence on post-graduation plans or may not be financially viable. When asked if he is intending to take an extra semester of eligibility, Vilchis said, "I have been thinking about it, and I am totally considering it because I want to finish my college career as good as possible. Also, I want to play an official match with my brother [Braulio Vilchis, a freshman on the team] and fight for the playoffs with my team."
Keep up-to-date about the Hilltopper Soccer team through Hilltoppersports.com and the Trumpet.
Leave a Comment
About the Contributor
Anna Johnston, News/Sports Writer (Fall 2022)
Anna Johnston is a WLU senior from Linlithgow, Scotland. This is Johnston's fourth year as part of the Trumpet team, having taken on a variety of roles...