Get ready for weekend spooks with these Halloween movies
As Halloween approaches, the same Halloween movies we see every year pops-up in our minds. I would like to recommend adding these new and old movies to your list to watch this Halloween season.
Depending on what streaming service you have, you can get a surplus of movies or very little to pick from. If you have Netflix, their Halloween section has a movie in the top ten called "Night Teeth". It's a 2021 movie about a college student picking up two mysterious women. Netflix also has a series named "Scream", based on the movie, which I couldn't get through. However, if you are a big "Scream" fan like me, maybe you'll have enough time to get completely through it on Halloween.
I would have to recommend "Death Note", which is also on Netflix. It's a 2017 film; however, I did not get to watch it until this semester. I am a fan of the anime and have watched other live-action films on it and this movie is perfect as a recreation. If you haven't watched it, it is about a student who finds a notebook that kills people. All one needs is a name and a picture of someone to give them a heart attack or whatever realistic death they can think of. The animation on the Death God in this movie is much better than the last, and the pacing fits. It does veer from the anime, but I'll give it a pass for pacing reasons.
If you have Hulu, they have a section called Huluween. I have to recommend "Us". It is one of my recent favorites made in 2019. It is psychological and incredibly thrilling. This movie is about a family that moves back to a beachfront house that they used to live in. They are met by strangers in masks trying to kill them, only to find out that underneath the masks were people identical to them. It's one of those movies that keeps you on the edge of your seat the whole time.
Samantha Snyder, senior WLU student and graphic designer and illustrator for The Trumpet said, "My favorite movie is 'The Blair Witch Project' (1999). I'm a sucker for found footage films, and this movie is the one that hits all the marks for that genre. You can't recreate what they managed to do while filling Blair Witch, I've yet to see anyone come close. My favorite scene in it is maybe the map scene. Without spoiling it for anyone who hasn't watched the movie, the desperation in losing the map and the tension between them because of it just really plays well together. The whole scene is incredibly memorable from this and how the actors bounce off each other. I'd recommend both Blair Witch films, obviously. But some other favorites would be the 'Unfriended' movies, 'Apostle', 'The Boy', and maybe 'The Autopsy of Jane Doe'."
Brianna Hamon, The Trumpet's news editor said, "My favorite Halloween movie of all time is 'Practical Magic' because it's a perfect mix of comedy, romance and creepiness. It's a movie you can watch any time of the year to get in the mood for Halloween. If you're a fan of Sandra Bullock and Nicole Kidman, you'll enjoy this movie because they are an iconic sister and witch duo. My favorite part of the movie is when they get together and sing 'Coconut' by Harry Nilsson and make midnight margaritas. If you're looking for something spooky with a lot of jump scares, I would recommend 'The Autopsy of Jane Doe' or 'Hush'."
Sierra Stevens, a creative arts therapy major said, "My favorite scary movie would have to be 'Creep'. I love found footage-style movies and psychological horror. I think it accomplishes both really well, and it actually freaked me out while watching it. The first one (favorite scene) that comes to mind is the Ice Cream Man scene from the movie Legion. Because Doug Jones. I love Doug Jones. I've watched the behind-the-scenes for it, I thought it was interesting how they accomplished it. And I think it's just a fun, kind of creepy scene. I will always recommend watching 'As Above So Below'. It's a great found footage film and I think it does great with the horror elements of it. I find it a super fun movie to watch and it has an interesting story."
If you are a broke college kid with no subscriptions, you could always turn to free movie apps like Tubi. They have a fair amount of newer movies with a ton of older ones. You could take a chance with one of their original horror films, watch something familiar or watch something new like the 2020 film "Do Not Reply". Happy Halloween from all of us here at The Trumpet and happy movie hunting!
Leave a Comment
About the Contributor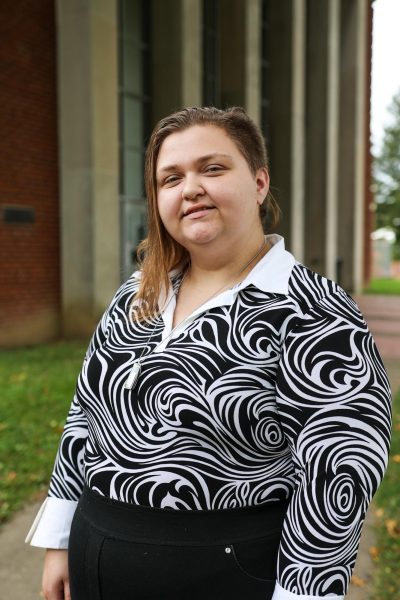 Haley Blakemore, Photo Editor/Social Media Manager
Haley Blakemore is a Senior in English Literature  with a minor in Journalism from Reeader, WV. Blakemore has been on staff for the Trumpet since 2019....