Bent Knee deliver unique and compelling art rock with 'Say So'
By Ian Beabout, Online Editor
As a radio host, it can be very easy to become overwhelmed by music. It seems like nearly every day, I'm coming in contact with music I've never heard before – some of it very good and some not so much. As such, it can be incredibly easy to fall into the complacency trap; the 'boredom with music' syndrome.
When you listen enough, you begin noticing patterns; everyone 'borrows' a bit and sometimes they borrow from the same sources, or each other. It's human nature. The problem is, it often begins to all sound a bit alike. Radiohead clones seemed all the rage for awhile and before that everyone seemed to be aping their favorite band of the 70s. Beatles clones, Zeppelin clones, Yes clones – you name it, it's been ripped off.
So when a band comes around who is genuinely unique, yet still manages to press all those emotional buttons, you tend to look for the highest mountain, scale to the peak, and scream the name of said band for all to hear.
One such band is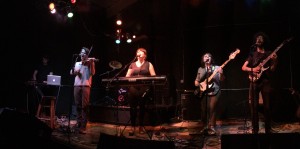 Photo by Ian Beabout[/caption]
By the time you hit the third track, "Counselor", you're deep in the woods (as depicted on the cover art by Greg Bowen) with quirky vocal-led sections alternating with moments of nearly oppressively dark, near punk-rock. The interesting thing about this band is there is no real star – every member of the band seems to hold their own spot for the betterment of the whole. However, it's hard not to be blown away by the vocal calisthenics of Courtney Swain, one of those unique talents who can go from the softest whisper to a shriek and everything in between. It's not necessarily 'easy listening', but it's unbelievably exciting.
"Eve", the centerpiece of the album, is some nine minutes in length and is never dull. It's somewhat of a continuation of the dark, edgy tone of "Counselor" with some jagged and unpredictable changes that make this track a real treat. All of these are, of course, supplemented by incredibly irresistible melodies and deep, dreamlike textures (Vince Welch's essential contribution to the band's sound).
Interestingly, the middle of the album is contrasted by a pair of indescribably beautiful pieces – "The Things You Love," which deals with the replacement of material objects over human contact and "Nakami" which has one of the most devastatingly gorgeous middle sections I've ever heard. The way the wordless vocals are arranged and build and stack up never fails to raise the goose-bumps.
Following a short stab of quirkiness appropriately entitled "Commercial," a witty comment on infomercials, complete with layered '1-800' numbers and metal-ish guitar riffs courtesy of Ben Levin, the album delivers the most irresistibly catchy moment of Bent Knee's career. Yes, after all the experimentation, edginess, and yes, even a few moments of serene and painful beauty, the band delivers an almost pop song, "Hands Up."
"Hands Up" has quite a long build up to the chorus, but it is so worth the payoff. Instantly singable, it wouldn't sound out of place on a pure pop album. A sarcastic comment on people trapped in relationships that exist only in their cellphones, the band is at their lyrical best here with lines like "you can see the sea change darling, when we touch wirelessly." This speaks to me, it speaks to our generation. The middle section of this tune is also a total knockout, I particularly love Gavin Wallace-Ailsworth's performance on the drums – it sounds somewhere between pure jazz and Rush's Neil Peart. Swain's synthesizer work here is purely virtuosic, yet tuneful and a service to the song. It doesn't sound like such a difficult part, because it fits so well.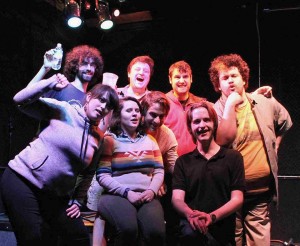 The final tune on the album, "Good Girl" is perhaps the most beautiful and dark statement, simultaneously. A hymn to society's oppressed women; it is delivered very minimally with no drums and an emphasis on Levin's guitar and Swain's vocals. The real highlight of the track is the middle vocal, performed in a heartbreaking child voice by bassist Jessica Kion, which might be my favorite part of the whole record. I won't ruin it – you must hear it for yourself.
I had the pleasure of attending the release party for Say So at Orion Sound Studios in Baltimore, Maryland and had a wonderful time. Having listened to this and their previous record Shiny Eyed Babies (2014's sleeper hit), it was surreal finally seeing this band who I've loved for nearly a year in person and witness the magic in person.
In addition to being wonderful musicians, they also turned out to be equally wonderful people, providing many a rewarding discussion on a variety of topics – including music. With no real star in the band, one thing I noted from seeing their gig is how Ben Levin's guitar is not used in typical 'rock' star context. With Chris Baum on violin, the two instruments are arranged almost in the classical sense, both parts interlocking and supporting one another. A true democracy.
If you consider yourself any kind of fan of music, you owe it to yourself to check out Bent Knee. Their new album, which is available for streaming in its entirety, is absolutely essential modern music that represents a hard working and creative band at the top of their game.
Though I have a number of favorite songs on this record, it must be taken in as a whole. Each track melds seamlessly into the next, not unlike Pink Floyd's classic Dark Side of the Moon. Above all, what strikes me as unique is that this band have the 'chops' to play anything they want – jazz, classical music, you name it – but they choose to make quirky, theatrical, emotional, song-based art rock.
Unmissable.