Toppers seek win against streaking Falcons 
By Josh Smith, Contributing Writer
After a
tough loss against the University of Virginia Wise
last weekend, the West Liberty Hilltoppers are hoping to find a solid rhythm as they head into the middle of their season. After starting the season 2-2, the Toppers have struggled to maintain momentum toward a win streak. They hope to begin that streak tonight on the hilltop. 
Tonight, the WLU Hilltoppers (2-2, 2-2 MEC) will host the
Notre Dame College Falcons
(3-1, 3-1 MEC) at West Family Stadium. After losing their first game of the season to nationally-ranked and Division II powerhouse Shepherd University, the Falcons have cruised to a three-win streak and are currently tied for second in the Mountain East Conference standings. The Toppers, however, hope to end one streak and start one of their own.
The Toppers and Falcons have only faced off a total of four times, and the Toppers have yet to take a win; last year, the Toppers fell to the Falcons 14-30 in South Euclid, Ohio. Although the Toppers are winless against the College of Notre Dame, the team has an array of talent that can help push them to victory. 
First-year starter junior
Brenton Colabella
has played extremely well in his first year as a starter. Through his first three games, he threw for over four-hundred yards, three touchdowns and completed nearly 70-percent of his passes. Colabella struggled last week against Virginia Wise, however, as he threw for just 87 yards and gave up three interceptions. If he can find his rhythm again, the Toppers can surely win some games.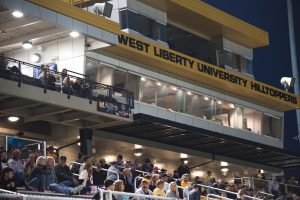 Junior wide receiver
Osman Kargbo
has been one of Colabella's most reliable targets. Kargbo leads the team in receiving yards, receiving touchdowns and all-purpose yards. Junior half-back
Ian Kelly
has also been huge on the receiving side, hauling in 16 receptions and one touchdown. Kargbo and Kelly are the only Topper receivers with more than five receptions. 
However, look for other receivers to step their game up in the next few games. Senior running back
Jeremiah Ortiz
leads the team on the ground with 58 rushes for 304 yards, but is still searching for that first touchdown. 
The Topper's defensive unit has been solid as well, behind the lead of junior linebacker
Clifford Clark
. Like last season, Clark is leading the team in tackles with 29. Sophomore defensive back
Logan Deri
is second with 23 tackles, but has intercepted one pass as well. 
Do not let WLU's record against the Notre Dame College Falcons disillusion you. The Hilltoppers are still a promising team with tremendous talent. The Toppers look to prove that tonight. 
You can watch the game on WLU-TV channel 14 or through the online stream at 
hilltoppersports.com
. Kickoff is set for 7 p.m.
Photo credits: Savanna Sieger and Megan Sayre