WLU basketball returns to hilltop after break
By Kendrick Jackson, Advertising Manager
West Liberty University's men's and women's basketball teams returned to the hilltop Saturday, Jan. 6, for their first home games of the year. Both squads pulled out a win, as our men's team continues their perfect season and our Lady Toppers improve to 5-9.
Head Coach, Ben Howlett, and the No. 4 West Liberty men's basketball team cruised by the Golden Eagles of Charleston University, 106-80. It was a team effort as five Hilltoppers posted double-digits in points with junior guard, James Griffin, leading WLU with a team-high 19 points.
The Hilltoppers scored at least 100 points for the eleventh time this season. Although known for their offense, our Hilltoppers have defeated opponents by almost an average of 30 points-per-game this season.
Looking ahead, our men's team will have two conference matchups this upcoming week against U. Va. Wise and Concord University. WLU is probable to move up in the rankings this upcoming Tuesday, after Missouri Southern completed an upset against No. 1 Northwest Missouri State.
West Liberty women's basketball team ended their three-game losing streak after defeating Charleston University, 84-76. Head Coach, Kyle Cooper, and the Lady Toppers started the game slow, down 8-17 after the first quarter. However, the team took the lead after the first half and never looked back.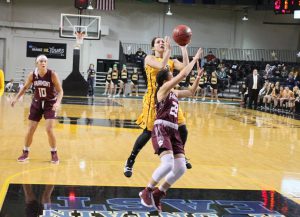 Junior forward, Marissa Brown, continues her breakout season, leading the way for the Lady Toppers with 26 points. Brown also added a game-high three blocks. Brown is currently leading her team in points, rebounds, blocks, and field-goals made this season.
Junior guard, Johnie Olkosky, also played a big part in the win against Charleston. Olkosky added 19 points and flirted with a double-double with nine rebounds in 37 minutes, almost the entire duration of the game.
Our women's basketball team also have away matchups this week against U. Va. Wise and Concord University. However, our Lady Toppers are desperately searching for a win as they remain winless on the road for the season.
Coverage of the women's and men's basketball games begin at 5:30 p.m. and 7:30 p.m., respectively, at hilltoppersports.com. For more information all season long, remember to check here on the Trumpet Online. 
Photo Credits: Hilltoppersports.com