Senior WLU Quarterback is finishing his legacy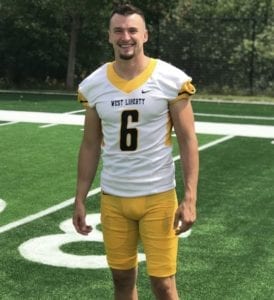 Zack Phillips, the senior quarterback of the WLU football team from Wheeling, has been putting big scores on the board for the team throughout his football career at West Liberty since last season. He made his decision to come to West Liberty after three years at his previous university following an injury. 
        Phillips came here mainly because he wanted to play with his little brother, Nate Phillips, who decided to become a Hilltopper after he graduated High School a year ago. Besides this, Zack loves to be close to home and his family, who are always there to support him in many ways. As a captain, Zack leads his teammates well. "His best attribute is his leadership qualities, which is hard to find in this level," said Coach Roger Waialae.
        Phillips had surgery last week after breaking his wrist while playing football, which makes him incapable of playing for now. It's especially unfortunate because he is a senior and there are just three more games left in the season. On the other hand, he is recovering fast so he hopes that he will be able to play at least the last two games.
        Battling through injuries, Phillips has had a successful college football career at WLU as well as academic wise. Majoring in secondary science education with a 3.3 GPA, Phillips is ready to move on and get into his next part of his life. After graduation, his goals are to become a high school science professor and a football coach. At the same time, Phillips is sad to think that after he graduates in May, he won't see many of the friends he made up here that he used to hang out with every day.
        Focusing on being energetic and passionate on the court as well as caring for his teammates and coaches who are always there for him on and off the field, Phillips has a great relationship with all of them.
        The Phillips brothers are close friends and they are having a great time being teammates. "It is cool to have my brother on my team, it is a special moment for both of us and we really enjoy that," said Zack. As they've never got to play together in High School, Nate feels happy to play with his older brother for the first time. "This experience has been really fun and I'm glad that we got the opportunity to play together on the same team," said Nate.
        Zack is certain that he made the right choice to come to West Liberty for many reasons.  Phillips said, "I love West Liberty a lot, I feel that everyone up here is close. I have a very diverse group of friends which I think is really nice,"
        Since Phillips was a little kid, football has always been part of his life. Keith Phillips, his dad, is a football coach, so besides being his biggest motivation to start playing the sport, Mr. Phillips has always been his biggest inspiration.The brotherhood and everything he has been through with his teammates is definitely what he is going to miss the most. West Liberty gave him many good memories that he will never forget.
        "I am thankful for my parents for always keeping my spirit high, motivating me and always having my back in the ups and downs as well as for my coach and teammates for basically the same reasons," said Phillips.