Crutchfield's impact on Men's Basketball Program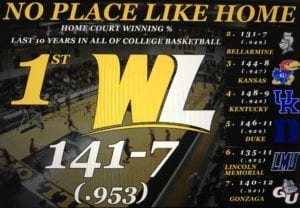 The men's basketball team here at West Liberty has become a dominating force both regionally and nationally.  With a 147-7(.953) record at home in the last ten years, they have the highest home winning percentage across all levels of collegiate basketball during that time.  In comparison, powerhouse programs such as Duke and Kentucky trail WL when it comes to this statistic. They are both hovering around (.930) on their respective home courts. This continued success can be credited to numerous factors but there are two that have stayed consistent throughout excellent coaching and up-tempo play. 
          The reputation for dominance on the court wasn't always like how it is now though.  Prior to 2004-2005, the team flirted with .500 records, sometimes winning a couple more than they lost and sometimes losing a couple more than they won. It wasn't until the 2004-2005 season when things started to change for the better.  During that season, the team finished with a 21-10 (.677) record. Since that season, the Hilltoppers continued their progression into a winning program. To this day, they haven't finished a season with a winning percentage below (.720). You can see the complete record history here Record History.
          The biggest reason for this transformation was a change in the head coach.  An unsung coach by the name of Jim Crutchfield was hired. Prior to taking the job, he held the position of head coach for the tennis team here at WL.  "There were a lot of people who were upset when they hired me. They didn't exactly know who I was, and they didn't think a tennis coach could be capable of coaching a basketball team," Crutchfield remembered. 
          "I was aware of the state that the program was at and I knew there were going to have to be some changes made.  I believed, at the time, that it would be best for our team to move towards more of an aggressive, up-tempo type of play," Crutchfield commented.  His choice to change his team's style of play favored the Hilltoppers ever since.  
          During his tenure at our university, from the 2004-2005 season to the 2016-2017 season, he finished with an overall winning percentage of .850.  He led his team to thirteen straight 20-plus win seasons. Prior to his arrival, the program never experienced a 20-plus winning season. In addition, the team had five seasons where they had 30 wins or more and were ranked in the top 25 for 112 straight weeks.  That is the longest-running team that has been nationally ranked in the history of Division II basketball. His teams were nationally ranked in the top 5 for scoring efficacy every season he was at the helm.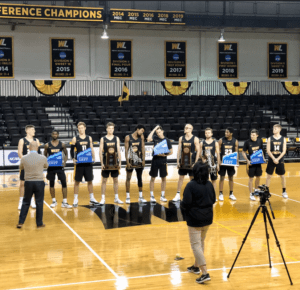 For his accomplishments, Crutchfield was recognized as the Conference Coach of the Year seven times and the National Coach of the Year twice.  He was also the Furfari award winner four times, which recognizes the top coach in West Virginia participating in any sport. 'I think my greatest accomplishment while I was there was creating our own style of basketball and it being successful.  It's something that I can talk to coaches around the country and they know it as the 'West Liberty style of basketball'. It's very cool but also humbling," Crutchfield added.
          Crutchfield decided to leave the dominant program that he created after the 2016-2017 season to pursue a coaching opportunity at Nova Southern University.  You can learn more about their program here Nova Basketball.
          With his departure, West Liberty hired Ben Howlett to be their new head coach.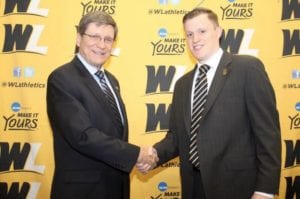 Howlett played for Crutchfield from 2005-09 and was his lead assistant for six years prior to Crutchfield leaving.  Howlett has had an impressive start to his career with it only taking fifty-seven games to reach the fifty-win mark. "It really just comes down to his work ethic and his knowledge of the system that we created.  I think it really helped him that he was able to play in that type of system then translate it into coaching," Crutchfield commented about his former player and colleague.
          To keep up with the current Hilltoppers team, you can visit Hilltopper Basketball or live stream their games here Topper Station.
          If you want to learn more about Coach Crutchfield and the system that he runs, here is a great podcast that will do both for you Crutchfield Podcast!