Speech and Hearing Clinic urges students to schedule appointments for National Audiology Awareness Month
*Note: This information was cultivated from Maureen Zambito's, director of media relations, press release.
October is National Audiology Awareness Month, and the West Liberty University (WLU) Speech and Hearing Clinic urges students to take care of their hearing health.
"Since October is National Audiology Awareness Month, it's a perfect time to remind everyone to protect your hearing and get it checked," said Stephanie Bradley, director of the speech pathology and audiology program in the College of Sciences.
According to the Speech and Hearing Clinic's webpage, "Speech, language and hearing are all integral pieces of human communication. Any difficulty or loss in communicative function can lead to decreased success in reaching developmental, academic and vocational goals. Communication is a social tool that should be accessible to every individual no matter the circumstances. Our goal is to serve our community by offering a wide variety of services for adolescents to adults experiencing communication difficulties in the areas of hearing, speech and language."
For speech and language services, the clinic accepts patients ages two and up. For hearing services, they accept patients ages five and up. They accept self-referrals, physician referrals and referrals from other healthcare professionals.
The National Institute of Health's National Institute on Deafness and other Communication Disorders states there are growing numbers of younger people reporting hearing difficulties.
A study published by the Lancet Commission on Dementia Prevention, Intervention and Care cited nine risk factors for dementia where midlife, untreated hearing loss is listed as one of those risk factors. The report also stated that dementia typically starts many years before it is recognized. Untreated hearing loss can impact the brain and cognitive health.
"There is also a link between untreated hearing loss and falls," said Bradley.
According to a study conducted by Johns Hopkins University School of Medicine, an increase in hearing loss in an individual is associated with a three-fold increase in fall risk. Increase in hearing loss can range from having normal hearing to a transition of untreated mild hearing loss.
One of the factors in maintaining healthy hearing is being conscious of the degree and amount of loud sound exposure. More than 40 million Americans, ages 20 to 69, have some type of hearing loss with approximately 10 million of those attributable to noise-induced loss. Managing sound exposure can protect hearing because once your hearing diminishes, it's permanent.
The simplest way to protect your hearing if you can't avoid loud sounds is to wear hearing protection. An audiologist can help you identify or customize hearing protection that can provide a comfortable fit and good sound quality.
"Anyone suspecting that his or her hearing has diminished, should see an audiologist and get tested as soon as possible," Bradley recommended.
WLU offers both an undergraduate and graduate degree in the field of Speech Pathology and Audiology. The university also operates a Speech and Hearing Clinic that offers hearing and language healthcare services to the public at a reasonable cost.
Students can schedule an appointment by visiting the Speech and Hearing Clinic's page on WLU's website or by calling the clinic at 304.336.8199. The clinic currently requires out-of-pocket payment in the form of cash, check or credit card. Payment for services is expected on the day of the scheduled appointment. A list of costs and services is displayed within the clinic and can be requested while scheduling an appointment. For more information about the Speech and Hearing Clinic, visit www.westliberty.edu/shc.
Leave a Comment
About the Contributors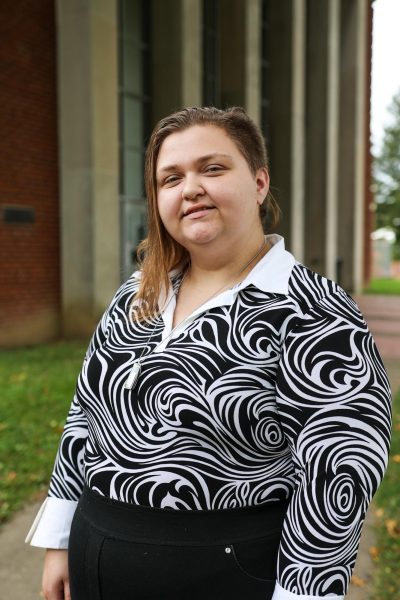 Haley Blakemore, Photo Editor/Social Media Manager
Haley Blakemore is a Senior in English Literature  with a minor in Journalism from Reeader, WV. Blakemore has been on staff for the Trumpet since 2019....