Senior transfer making the most of final year on the court
By Kendrick Jackson, Advertising Manager
Senior guard Jordan Watson has been a vital part of the Hilltopper team this season. A transfer from Lincoln University (Pa.), Watson is shooting over 45 percent from behind the arc, the highest percentage on the team. However, there is so much more that lies beyond the player sporting the No. 1 jersey.
Watson was born and raised in Philadelphia, Pa. During his final two years of high school, Watson attended Chestnut Hill Academy. He received two varsity letters, the Landreth Award for outstanding varsity player, and a Division All Inter-Academic Team Award during his senior year.
Upon graduation, Watson ultimately decided on Lincoln University (Pa.), the first degree-granting historically black university. "An important factor for me was the history of the school [and] the students," said Watson. "It was a lot of people I knew already there, and my relationship with coach John Hill."
During his three years at Lincoln, Watson scored 533 points while shooting 40 percent from the field and over 37 percent from the three-point line. As of Feb. 18, in his lone season on the hilltop, Watson has improved his shooting percentages to 48 percent and 45 percent, respectively.
After Doug Overton took over head coaching duties at Lincoln in the 2016-17 season, Watson knew his days were limited. "I chose West Liberty because I wanted to get away and get a fresh start in a new environment that I never experienced," said Watson. "In addition, I wanted to learn what it [was] like to be a part of a team's winning culture, which was something I have never experienced on prior teams."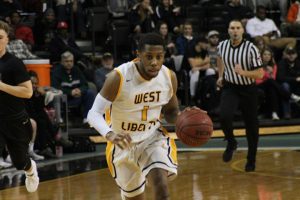 Watson has established a great relationship with Ben Howlett during his first season as head coach. "Competitive is the first word that comes to my mind," said Watson. "He pushes me every day to go to that next level. We trash talk to each other jokingly all the time; that is my guy."
Watson has enjoyed every second on the hilltop this season. Watson has been "treated great since day one of being here" and calls fellow teammate, Dalton Bolon, "one of the most poised players I have ever seen," said Watson.
After graduation, Watson plans to attend graduate school for exercise physiology.
You can catch Watson and the Hilltoppers in the ASRC today, Feb. 24, for the season finale against inner-conference rival, Wheeling Jesuit at 4 p.m. Also pick up next week's Trumpet for more player profies and game previews.
Photo Credit: Hilltoppersports.com