By Kendrick Jackson, Advertising Manager
The
women's basketball
season came to an end on March 1 as West Liberty was defeated 64-55 by Fairmont State during the quarterfinals of the
Mountain East Conference Tournament
. With
head coach Kyle Cooper
at the helm for his first year, the Lady Toppers improved their record from last year by four wins and produced a First-Team All-MEC honoree in junior forward,
Marissa Brown
. With Coach Cooper and Brown leading the charge, the Lady Toppers' basketball program was revitalized this season. 
Coach Cooper was introduced as the new face of the Lady Toppers on May 5, 2017, after West Liberty Hall of Fame coach, Lynn Ullom, took over Hilltopper athletic director duties. Prior to the 2017-2018 season, Coach Cooper served as the associate head coach under Ullom for four years. 
One of Cooper's first moves as head coach was to hire assistant coach,
Cassie Seth
, a veteran coach with playing experience at the collegiate level. Seth spent her playing days at Mercyhurst (Pa.) University where she ranks in the Top 10 all-time in points and steals. 
Coming into the season, the Black and Gold
ranked No. 8 in the MEC Coaches' Preseason Poll
. Coming off a nine-win season the previous year, Cooper was not alarmed by the preseason poll. "Preseason rankings are what they are so I'm not surprised to see us picked where we were after last season," Cooper said. 
After the first half of the season, the Lady Toppers sat in the middle of the MEC at 4-7 and 0-4 on the road. The black and gold did pull the upset at home on Dec. 2 against
Notre Dame of Ohio
. Hilltopper forward Brown scored 26 points along with 11 rebounds to finish the game with a double-double. 
West Liberty women's basketball team would go on to finish the year 13-15. The Lady Toppers won their season finale 83-75 against conference rival,
Wheeling Jesuit
, to conclude the year with a 10-3 home record. They almost secured another upset against nationally ranked
Glenville State
on Feb. 17, when the black and gold lost to the Pioneers of Glenville State by only three points. 
 The Hilltoppers would go into the MEC Tournament ranked No. 4, with Glenville State leading the pack. This was an improvement from last season after West Liberty was ranked No. 9 during the tournament with a first round exit. 
Brown earned
First-Team All-MEC honors
for her dominant play during the 2017-2018 campaign. Brown averaged a double-double during the season by posting on average 24 points and 12 rebounds-per-game. Brown was also awarded NCAA Division II National Player of the Week during February, and crossed over
one thousand points
for her career.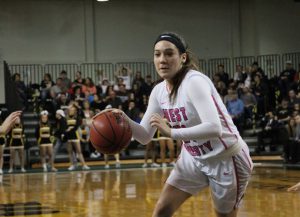 No. 4 seed West Liberty met No. 5 seed
Fairmont State
during the first round of the MEC Tournament. The Lady Toppers took the two regular-season games, but couldn't capitalize during the tournament matchup. The Fighting Falcons of Fairmont State would go on to advance to the second round after defeating West Liberty 64-55. West Liberty shot season lows in both field-goal and three-point percentages. 
Although the season ended on a sour note, head coach Cooper felt optimistic about his team moving forward. "This was a tough pill to swallow tonight, but we have a lot of positives with this group heading into next season," said Cooper. 
The Lady Toppers have already started recruitment for next season with some early signings including 6 feet 1 inch tall forward Lindsay Humbel and 5 feet 7 inches tall guard Destiny Hutcheson. 
Humbel is almost averaging a double-double during her senior year of high school with 14.5 points per game and 9.6 rebounds per game. During Humbel's junior year campaign, Humbel set the school record for points in a single game with 41. 
Hutcheson earned First-Team All-Ohio honors for her play during her junior year. Hutcheson averaged 24.4 points per game with 6.3 rebounds per game and set the school single-season record with 544 points. 
With only one senior graduating from the team this spring, Cooper will have a strong nucleus to build around for the 2018-2019 season. 
Photo Credit: Hilltoppersports.com