Men's basketball starts MEC action against Glenville
By Cody Shook, Sports Editor
The Hilltoppers are 2-1 on the season, after starting the year with a loss against Kutztown University, by
a score of 107-97
. 
The next day, the basketball team got right back on the horse, earning their first win of the year in a
94-80 victory
over West Chester University. 
Sophomore guard
Dalton Bolon
scored 26 points in the first and second game of year, which led the Hilltoppers in both games. Aside from scoring 52 points in two games, Bolon also grabbed 17 rebounds, which led the team. 
Glenville State College has gotten off to a quick 2-0 start after beating Seton Hill and Bowie State by scoring 100 or more points in both games. Davion Johnson scored 24 points in the victory over Bowie State and he also recorded 11 rebounds on the afternoon. 
The Pioneers utilize a fast paced offense with a lot of ball movement to create open shots and high percentage opportunities. 
In the game against Bowie State, Darhius Nunn, the Pioneers game one leading scorer, led the team with 12 assists, which gave him a double-double.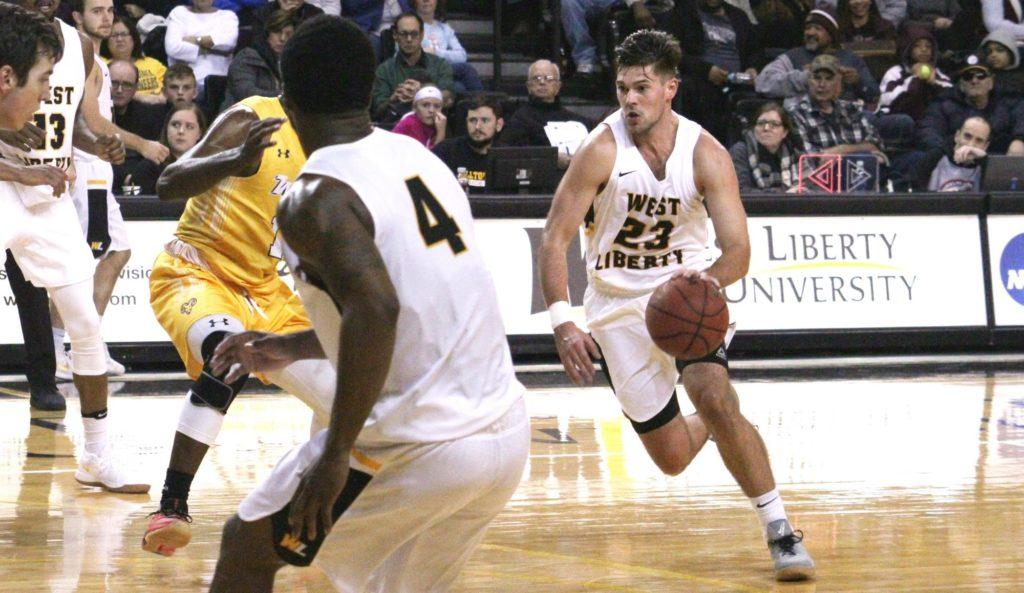 On Monday, the Hilltoppers will take on West Virginia Wesleyan College in another MEC match-up. The Hilltoppers will be looking to go 2-0 to start in conference play. 
The Bobcats have started the year 2-0 with victories over West Chester and Kutztown in the MEC/PSAC Challenge. In Wesleyan's first two games, their highest point total was just 80 points in their win over West Chester. 
Last season
when West Liberty played Glenville State, the Hilltoppers came away with two huge victories, the first one being by 30 points and the second one by 39. West Liberty scored over 100 in both games and they will look to do so again this season. 
In the two games against West Virginia Wesleyan, West Liberty
won by 30 points
first, and the second time around the game was a little closer, but the Hilltoppers came away with an
11 point victory
.  
The Glenville State game is set for tip-off at 4 p.m. at home in the ASRC, and then the game against West Virginia Wesleyan is scheduled to start at 7:30 p.m. in Buckhannon, W.Va. 
Pick up the Trumpet every week for more previews.
Photo Credit: Hilltoppersports.com