Political Science Students Explore United Nations in Montreal
          WEST LIBERTY, W.Va., Dec. 13, 2019 — West Liberty University students studying political science as part of the course POLS 425 Model United Nations had a chance to travel to Montreal, Canada recently and explore the United Nations with their professor, Dr. Brian Fitzpatrick.
          "The Montreal United Nations Conference (MUNC) is a three-day international relations simulation for students," explained Fitzpatrick, who is an assistant professor of political science at WLU.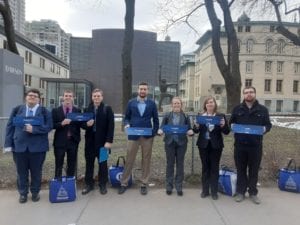 The conference meets annually in downtown Montreal and more than 500 participants discuss and debate global issues. 
          "They worked with students from other countries — foreign exchange students so it was an important cross-cultural experience that they enjoyed," Fitzpatrick said.  
          Last Spring WLU took its first trip to a Model United Nations conference in Charlotte, NC and students are hoping to build a chapter on the Hilltop in the near future.   
          Students who attended the Montreal event include Mitchell Burkett, Moundsville, WV; Isaac Deel, Elkview, WV; Michaela Goodnight, Benwood, WV; Charli McConnell, Richmond, OH; Dylan Parsons, New Martinsville, WV; Chance Pennebaker, Weirton, WV; and Jacob Yoho, Wheeling, WV.
          Fitzpatrick, who is originally from Hillsborough, N.C., is in his third year of teaching at WLU. 
          "At model United Nations the students take on the role of a country's United Nations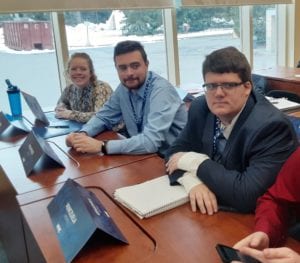 delegation, and work with students representing other countries to learn the process the United Nations and the dynamics of debate," he explained. 
          Model United Nations is not only relevant to those interested in political science and international relations, but also helps to develop debating, negotiation, public speaking, and consensus-building skills, according to Fitzpatrick.
          Political science is just one of the majors found in WLU's College of Liberal Arts. Others include comics study, criminal justice, English education, geography and planning, history, literature, pre-law, social studies education, social work, sociology, and writing & rhetoric.
          For more information, please contact Professor Fitzpatrick at 304.336.8353.