West Liberty's most recent COVID-19 Updates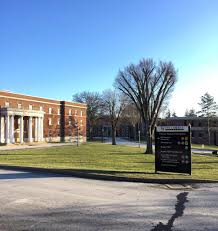 West Liberty University has extended students spring break one week as faculty and staff prepared to transition to online teaching. The university has been working hard to respond to the COVID-19 pandemic, and the University has created an email for questions and concerns regarding West Liberty's response to the virus, [email protected].  
          Several emails have been sent to students, staff, and faculty throughout the week with the most up-to-date information regarding COVID-19, housing information for students living on campus, Sodexo food services, adding/dropping classes, and pre-registration for the fall 2020 semester. 
          Recently, the administration announced that in-seat classes are suspended until at least April 6, and online instruction is set to take place beginning Monday, March 23, 2020. Expect to receive emails from your individual professors regarding specific information for your classes. Most employees will begin working from home by March 23, and all campus buildings will be locked to the public starting Monday, March 23. Students and employees will need to use their swipe cards and keys for entry into buildings, and campus police will be available to provide assistance by calling 304.336.8021. 
          Marcella Snyder, Executive Director of Housing, sent an email to students in regard to their belongings in their dorms and how to access them. "Students are not required to remove all of their belongings at this time. If there are changes, we will email all residential students and update the housing website," Snyder said. If you live on campus and need to collect belongings or want to move out, please email [email protected] with the date and time frame that you are wanting to request access to the building you stay in. 
           President Greiner encourages students to return home during this in-seat class suspension.  However, if you need to stay on campus, you must fill out the online extended stay form and allow 24 hours for a response. The housing office is currently waiting for guidance from the state government in terms of refunds for students unable to reside on campus during this time, and any further questions regarding refunds should be directed to the Business Office. 
          Media Relations Director Maureen Zambito stated in the most recent university update that, "As instructed by the West Virginia Governor Jim Justice, Sodexo Dining Services is now offering take-out ONLY dining options at the Marketplace and Jazzman's. Hours are subject to change, please contact Sodexo at 304.336.8445 or check Twitter or Facebook (West Liberty Dining Services) for more information." 
         Scott Cook, Vice President of Student Services/Registrar, sent an email to students in regard to adding and dropping classes. "Due to the extension of spring break by a week, we are extending the deadline to add second half classes until Friday, March 27. If a student wishes to add a second-half class, please email from your WLU account to [email protected] by next Friday," Cook said. When adding a class, please include your name and the CRN for the course. 
         Friday, March 27 is also the last date a student can drop a full semester course with a grade of "W." Cook said, "If a student wishes to drop a class, the instructor should be emailed. Please include the student's name and CRN for the course in the email. The instructor will then email the Registrar's Office to drop the course." 
          Preregistration for the fall semester will begin on April 6, 2020. Cook stated that more information will be emailed and made available to students via online sometime next week. "Due to the current circumstances, alternate pin numbers will not be required to register for classes. We do ask students to still consult their advisors via email, and review their Degree Audits in WINS," Cook said. Priority registration will still be in place, however, and more detailed information on these dates will be provided to students sometime before April 6. If you have any questions regarding adding/dropping classes or registering for classes, please email [email protected] using your WLU email account. 
         To keep yourself informed on university updates, please continue to check your WLU email accounts. Stay safe and healthy, Toppers.